Sea urns and sea burial: decomposition process, costs and further answers
What can you expect from sea urns? How much is a sea burial? Where can a sea burial take place? What kind of motifs are there for a sea urn? Can sea urns be personalised? Who should think about a sea urn? Is a sea burial the right decision?
It doesn't matter if you make provisions or plan a burial, we know it can be tough. To at least facilitate the research, we we have summarised all relevant information about sea urns and sea burials.
The Sea urn: materials, requirements and decomposition process
When you choose a conventional funeral, you can choose from organic urns and, in some cases, metal urns and ceramic urns. But the range of materials for a sea burial is limited. Basically, it must be biodegradable. There are normally two kinds of sea urns: Sulphate urns and cellulose-based urns. Cellulose is a widespread material, and it is allowed in every European country.
In general, a sea urn must meet three requirements:
It has to be water-soluble.
It has to be completely biodegradable, including possible glues, colours and hinges.
It has to sink to the seabed, so it must be heavy.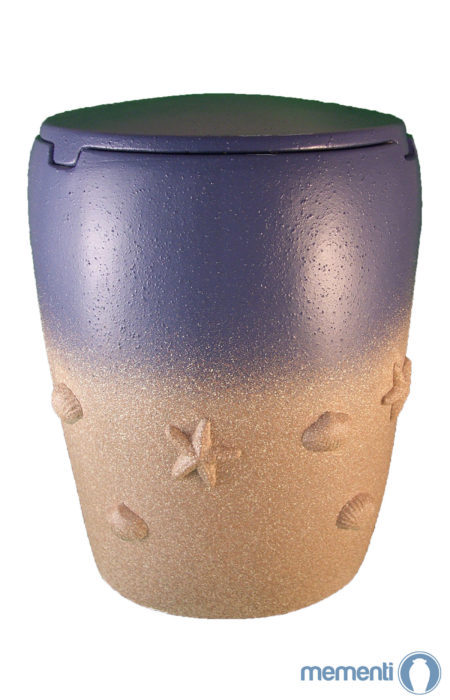 Decomposition process of sea urns
The average process of the decomposition of a sea urn lasts between 12 to 24 hours. During this process, water pressure, salinity, and water current help to accelerate the decomposition. It is reduced step by step, and then it is mineralised. The nutrients contained in the urn and the ashes are released into the ecosystem, and therefore, the material cycle is closed.
A sea urn decomposes within 12-24 hours.
After the decomposition, you can still visit the place where the urn was set into the sea, as the exact coordinates are written down in the ship's journal.
Design options and motifs for sea urns
The common motives for sea urns are water, sea, beaches, and lighthouses. Blue and red are frequently used colours. Like with other urns, you can choose between different designs and options. Painted and designed sea urns – like the pictures of artistic urns shown here – are very popular.
Besides these creative urns, there are urns with shell-shaped reliefs or square urns. If you can't find anything online among our range of sea urns, you could design a personalised sea urn yourself.
Whether it is a special quote or handwritten text – personalisation is easily possible. It doesn't matter if you want to add a symbol or an inscription, almost any design can be realised after a short consultation.
What to consider - Buy an urn without any obstacles
If you are considering a sea burial and you have chosen a sea urn, you can easily buy sea urns online. The easiest way is to follow 5 simple steps when organising sea burials:
Talk to your family to see if a sea burial is possible and how the ceremony should be held.
Compare offers of different undertakers.
Choose an undertaker
Choose a sea urn in our shop.
Order the urn and have it delivered to your home or right to the undertaker.
How to buy the right sea urn: Guide and assistance
If you are considering buying a sea urn online, don't forget to ensure that it at least meets the above-mentioned requirements; it should be water-soluble, heavy enough to sink, and completely biodegradable. Paints and glues need to decompose in the sea as well, and the urns should not be held together by metal compounds which could rust on the sea bed and therefore have an impact on the environment.
For burials in the earth, decomposable organic urns are usually used. These include wooden urns or liquid wood urns. But the slow composting process isn't suitable for sea burials, which is why other urns should be used in this case. Each of Mementi's listed sea urns meets these requirements.
"The sea is the last free place on earth" – Ernest Hemingway
So if you are buying an urn suitable for a sea burial, keep in mind that you need a sea urn. Other urns – even organic urns – could be problematic. Furthermore, as sea urns need to have a heavy weight so that they sink fast at the burial place, organic urns are often unsuitable for a sea burial.
Sea burial: costs and spreading
Obviously, the decision for a sea burial often depends on the location. Nevertheless, the spreading of sea burials has significantly changed in recent years. 15 years ago, most people who opted for a sea burial lived near the coast. More recently, it has been spreading to the mainland as well. As you can see in the graphic, the main area of sea burials is still the coast. For further information about sea burial and its regulations in the UK, please take a look at the guidance on the UK government website.
The price for a sea urn starts at only 170 Euros for a classic sea urn. But it's hard to put a number on the ultimate price for burials. There are certain guidelines for orientation.
The price for a sea burial starts at 1100 Euros. For that price, you get a burial without any participants, thus anonymous. If relatives want to join the burial, this will cost at least 1800 Euros. Then there are further costs for the transfer of the body, invitation cards, catering for the passengers and, if necessary, flowers. Furthermore, there might be extras and other special requests raising the costs.
If you need any information about a possible sea burial, for the purpose of provision and burial instruction, it is useful to clearly define your wishes and ideas to get initial estimates of cost from an undertaker. Please feel free to send any questions about sea urns and sea burials to us via the contact form.
Why are there a growing number of sea burials?
Originally, only seamen were buried in the sea. They spent most of their lives on the sea, and so they should do for eternity. Besides, it had practical and hygienic reasons. If you want to apply for a sea burial nowadays, you often have to declare an emotional attachment to the sea as a reason the deceased chose a sea burial.
A sea ends somewhere, but it also starts there
Anke Maggauer-Kirsche
Many people wish for more than cemeteries and columbariums, as it comes to their personal mourning. For this reason, other options for burials are becoming more and more popular. Besides nature burials, sea burials are increasingly requested. Currently, most people who decide for a sea burial live near the coast, but it is also spreading to the mainland.
For many, the sea is a place of peace and recreation. It is a symbol for vastness, deepness, and infinity. For this reason, sayings like "sea of flowers" are used to describe a vast innumerable amount. The vastness of the sea comes with a certain kind of yearning. This symbolism is the reason many people are interested in a sea burial. The local limitation and restriction of a burial in the earth is replaced by the freedom of the sea.
When talking to relatives, they always call the local limitation as an argument for a sea burial; also from people who haven't really been connected to the sea. A sea burial changes the place of grief. There isn't the local grave or the urn wall which can be visited. After a sea burial, every beach and every coast can become a memorial place.
As with nature burials, the mourning place becomes a place of peace and pause and, in some cases, it also becomes a place for recovery. Instead of visiting a grave, you remember a loved one while walking along the beach.
Besides emotional reasons for sea burials, the relatives' professional/private situation also matters. Costs and grave maintenance are important factors. More and more relatives can't or don't want to take care of a grave, and so they are looking for alternatives. In addition to nature burials, sea burials, in particular, have been getting popular recently.