Organic Biodegradable Urns: Materials used, regulations and costs
We answer your questions in this guide to biodegradable urns
Organic urns or ecological urns are made from biodegradable materials and decompose completely within 1-15 years depending on the model. In the UK, biodegradable urns are increasingly popular. Here, you can find all the information you need concerning biodegradable urns made from liquid wood, and also the legal regulations regarding the decomposition of urns. If you want to buy organic funeral urns then look at our shop.
Example of an organic urn
Organic urn - material
Our ecological urns are mostly made from liquid wood. This material is based on lignin which is extracted from wood (see image below). These have a particularly smooth surface and are 100% biodegradable.
Urns from liquid wood decompose completely within 5 years.
When colouring organic urns, we only use natural colours, whether they are created by artists or especially for you. The colours are intense and ecological. However, when you choose an urn, the material should not have priority but rather if it appeals to you or best suits the deceased.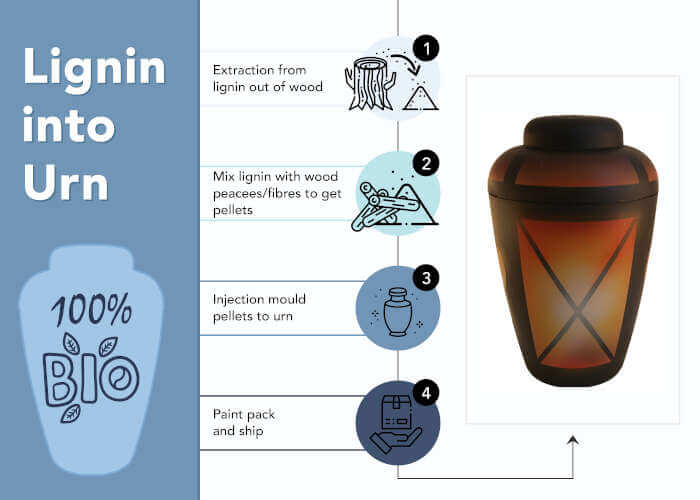 Organic urns material - wood
In addition to urns made from liquid wood, there are of course other 100% decomposable materials. Among others, we offer urns made from beech wood. Since we only use natural glue and no metal or other artificial components, these are completely biodegradable urns, too. It is a closed circuit – also called cradle-to-cradle among experts.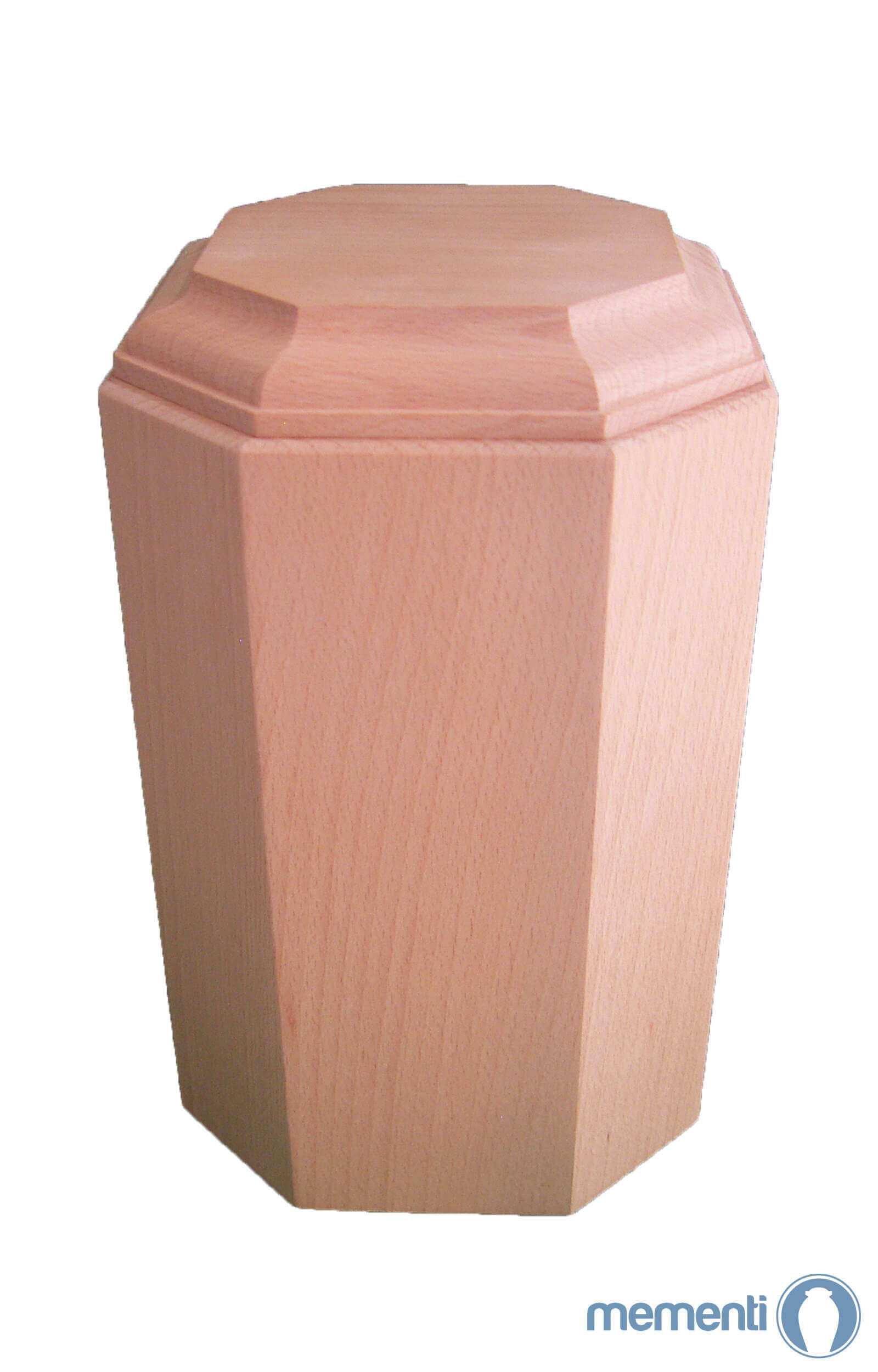 Biodegradable urns – how long does the decompostion take?
Materials and decomposition times
Depending on the material, the decomposition of decorative cremation urns varies in length. Furthermore, it depends on the consistency of the soil and weather conditions. Sandy and airy soils speed up the process of decomposition, while clay and standing water decelerate it. The following chart gives you approximate standard values of decomposition for different materials.
| | |
| --- | --- |
| Material | Completely decomposed after |
| Liquid wood / Arboform | 5 to 15 years |
| Mater-Bi / Organic Urn Vale | 2 to 5 years |
| Beech wood | 5 years |
| Tree trunk | 15 years |
Over time, metal and ceramic urns decompose as well, though it takes much longer. In most cases, it takes longer than the deceased lies in their grave, so these urns must be dug up after that. Nobody likes to talk about what happens to the ashes then. If you want to make sure the urn decomposes and the ashes are given back to the ecological cycle, you should choose an organic urn.
Genesis, growth, maturity, decomposition – A natural cycle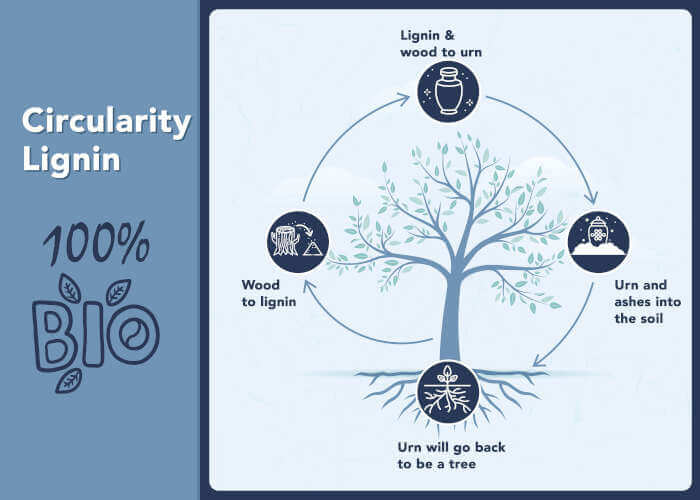 Organic Urns made from liquid wood are part of an ecological cycle. Materials obtained from wood are made into urns. The urn is buried, and the materials of the urn, together with the minerals of the ashes, are a catalyst for new growth.
Selection of organic urns from our shop
Artistic organic urns
An organic urn does not have to look natural. An urn is always an individual object which should suit the deceased. For this reason, we offer unique and expressive urns designed by artists. We work together with the artists Comar and Nona Mela. Many of their works are available for ecological and decomposable organic urns.
Individual organic urns
Personalised urns
Organic urns are available in many different forms, and there are almost no boundaries when it comes to creative freedom during manufacturing. You can also design one yourself. Express your grief and relationship to a loved one by choosing and designing an individual urn and allow her or him a very special final journey.
Organic urns are available in the following forms at Mementi urns:
Organic urn Vale: classic form and elegant cut, a link between tradition and modernity
Glossy organic urn: Biodegradeable urns with particularly intense colouring
Sea urn: water-soluble sea urns for a burial at sea are biodegradable and therefore suitable for every funeral.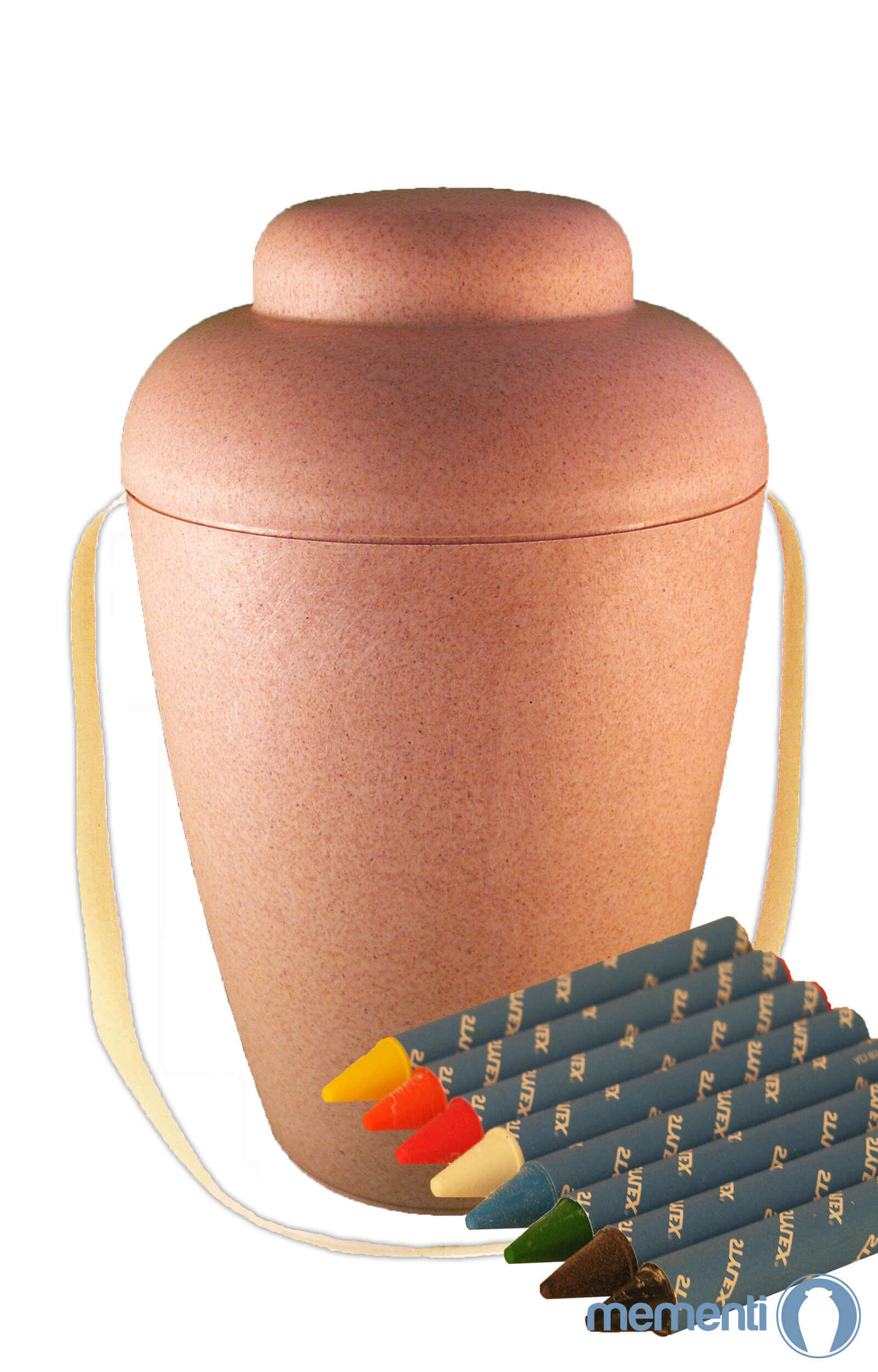 Burial methods for organic urns
Our organic urns decompose over time. In other words, they are putrescible and ecological. The urn decomposes, and the ashes become part of the soil and return to the natural cycle. Nevertheless, they have high resistance and are therefore usable for every kind of burial.
Sea burial
First of all, urns for a sea burial need to be water-soluble and need to be heavy so that they can sink fast. Take a look at our shop to see which of our urns are suitable for a sea burial.
Forest burial
For burial in a forest cemetery, in most cases, you need ecological urns which are 100% biodegradable. So a natural recirculation can be guaranteed and the cemetery is not damaged.
Woodland burial
The regulations for a woodland burial are the same as with a tree burial. The urns for human ashes are supposed to be returned completely to Mother Nature. For this purpose, you need biodegradable urns.
Urns for columbariums
Stone urns and marble urns decompose very slowly. Thus, they are only used in columbariums. Our organic urns can be used for burials in columbariums as well.
Buying an organic urn
Putrescible urn cost
At our online shop, you find current prices for organic and other biodegradable urns. Personalised organic urns, for example, start at 120 Euros. Specific artistic urns cost between 400 and 500 Euros, which is not too expensive for the final resting place. In some cases, even smartphones are more expensive…
Tips for selecting an urn
Before you decide upon an urn, you should know what kind of burial you would prefer. Burial in the earth, a columbarium, or a sea burial? The decision will affect the possible choices of material.
Once you make a decision on the type of burial, the colour of the urn and the inscription will limit the choices. So you should ask yourself: do you want a one-colour or a multi-coloured urn? And do you want a logo or an engraving on it? Please consider that not every material is suitable for a multi-colour choice or engraving.
When you've decided on the design material, you can order your urn. There are different options for delivery. It can be delivered to a private address or directly to the undertaker.
With everything is organised, ordered, and delivered, you can pay your last respects to your loved one with a beautiful and individual memorial service and urn.