Our funeral urn selection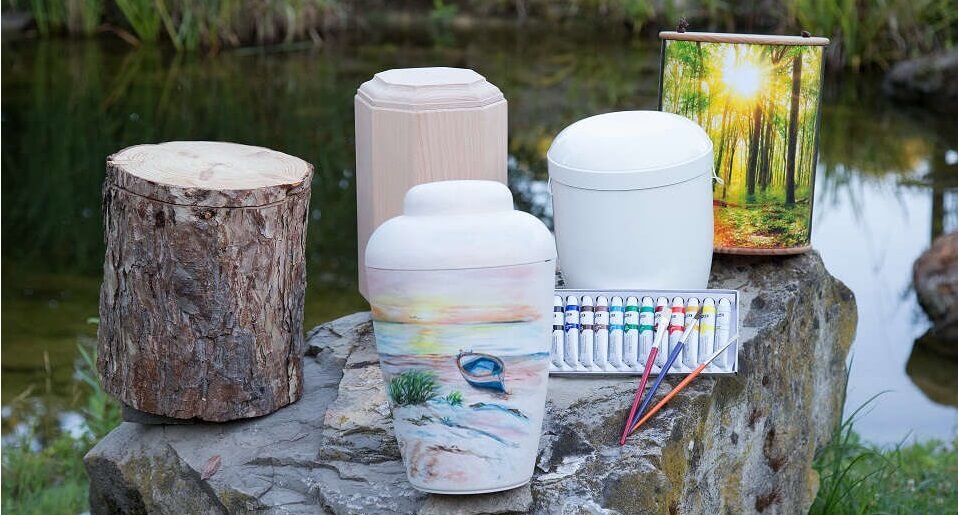 The urn I received was an exceptionally beautiful and unique hand painted urn. I was amazed by the superb quality of the painting and it made a very difficult decision, so much easier. I was very grateful for the customer service team, who explained the whole process from order dispatch and delivery to me. They even told me the story of my chosen artist and are clearly passionate about providing exquisite products. Their patience, care, understanding and empathy was very much appreciated during this difficult time and I would highly recommend this company.
Nichola, Herefordshire
Best-selling funeral urns from our artist
Our mission - The right urn
What we stand for
At Mementi Urns, we have made it our mission to find the right urn for the families making provisions for their loved ones. Therefore, we do not only offer a wide range of urns but also many options for personalised urns. Furthermore, we attach great importance to providing excellent service and help in trying times.
Free shipping
Free shipping of every urn within the UK. No special conditions, no exceptions.
Widest selection
In our large online shop for urns, we are sure you'll find what you are looking for.
organic urns
We specialise in exclusive organic urns that are biodegradable
Quality matters
With us, you get a 100% satisfaction guarantee. Find the right funeral urn at Mementi.
Funeral urn purchase for private customers – 5 easy steps
In these 5 steps, we explain how you can easily find the right urn.
1) Select the form of burial
Decide what kind of burial is the right one for you and your family.
The UK has very liberal burial laws regarding your loved one's final resting place. Get an overview of the different kinds of burials or other cultures to help your decision.
For burials in the earth, organic urns, wooden urns or root wood urns are recommended. They guarantee that the urn decomposes over time. Simultaneously, they give back to nature. For this reason, it is no surprise that biodegradable urns – as well as organic urns – are the most popular options for burials in the earth.
If you are considering a sea burial as your loved one's final resting place, you need a sea urn. Sea urns are water-soluble and heavy so that they sink fast to the ground and dissolve within 24 hours. The ashes in the urn are given to the sea.
2) Design of the urn
The selection of a funeral urn is an important step during the burial process. It is the central element of the funeral process. Choosing an urn that represents your loved ones and their character is crucial. Artistic cremation urns, in particular, have become more and more popular. Meanwhile, there is also a broad selection of artistically designed urns, colourful urns based on street art, or urns with more traditional patterns.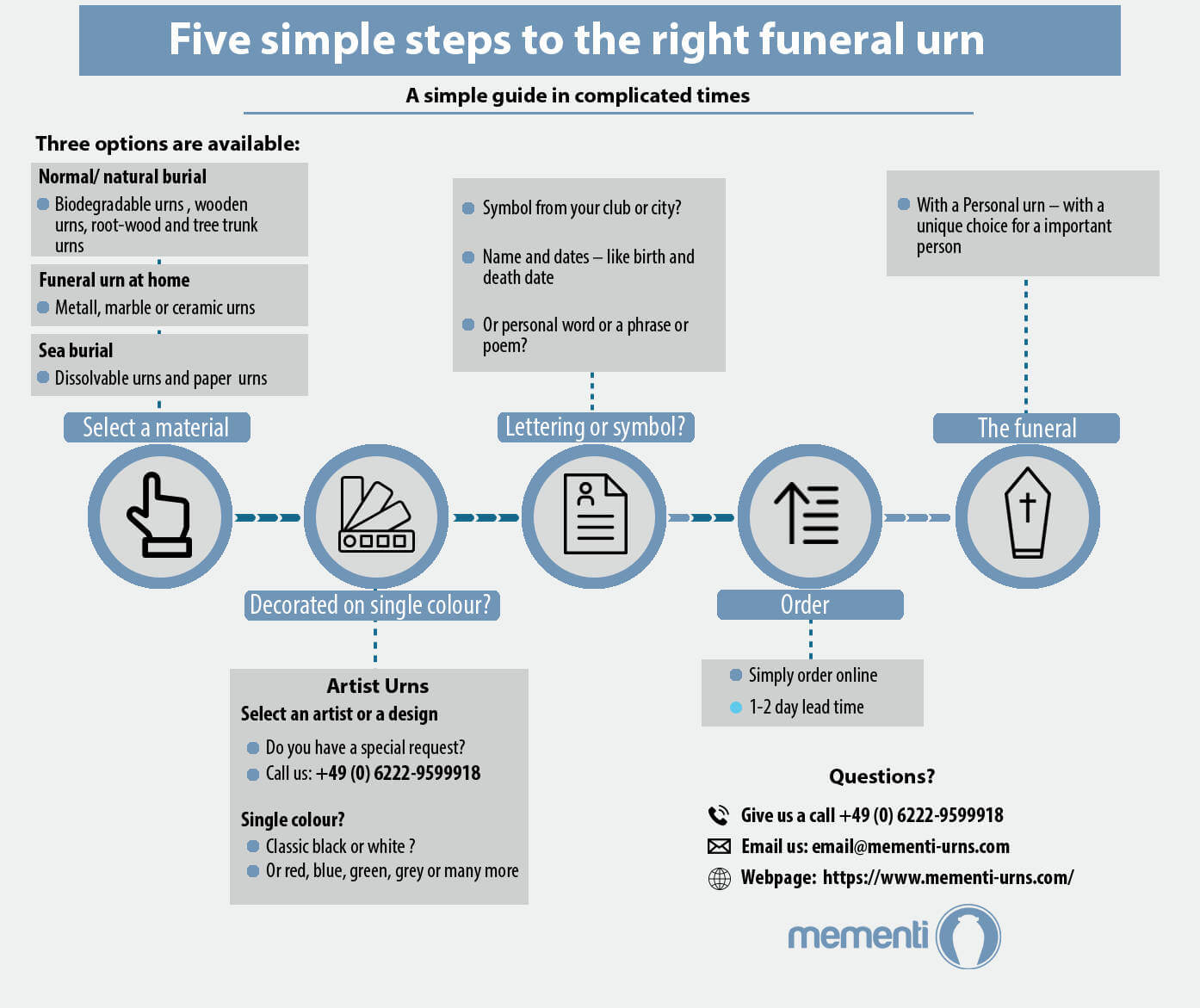 3) Individualisation of the urn
A personal word or the name of the deceased can give a simple urn more character. It could be the emblem from their career or their favourite sporting club or any other organisation that best reflects the deceased's life. Please ask us about personalist urns and labelling options and we will find the right one for you, or contact us direct with any questions More and more often, urns are self designed. With these urn painting sets, children can be directly included in the mourning process.
4) Ordering of the urn
You have chosen a burial method, the type of urn and the design? And you are certain about the labelling and the personalisation? In this case, simply order the urn in our online shop.
our special selection of urns
Simply select a category and browse our shop.
Biodegradable Urns
We offer a large selection of biodogradbale urns for burials
Buy an urn and rely on 100% quality
Our product's advantages:
No matter what you decide – whether it be an organic urn or a specific artistic urn – buying a funeral urn with us means the highest quality. You will also benefit from the following characteristics:
Unique designs:If you buy an urn, the design shouldn't only be beautiful but also special. Thus, within our assortment, we offer you urns with unique optical characteristics. On the one hand, you find urns that are simple and natural. On the other hand, there are also unusual and colourful urns for ashes. You can also find urns made from special materials. If you wish to buy an urn that represents the life of a loved one, you will make a find at Mementi Urns. We also offer unpainted urns which you can paint as desired with individual colours, and you can personalise your urn
Variety of forms: If you buy an urn at Mementi, you can choose between several varieties of forms, from traditional to more unusual styles.
Organic urns & natural urns: Our organic urns are a special part of our range. They are completely biodegradable and are usually made from 100% organic material. Our natural urns are something special, too, because they entirely biodegrade within a short period of time.
High-quality materials and impeccable workmanship: In all of our urns, we also only use the highest quality materials. Whether it is wood, ceramic, or metal – you will get an urn that meets the highest standards.