Wooden Urns
DECORATIVE WOODEN URNS FOR ASHES: A PIECE OF NATURE FOR THE FINAL JOURNEY
Diverse and near-natural: Wooden burial urns
When someone loses a loved one and chooses cremation, he or she wants a very special urn. Wooden burial urns are perfect for a person who loved nature.
Depending on the model, wooden urns are suitable for burials and urn walls (columbariums). There are lacquered and oiled urns, or completely untreated ones for natural burials. Our wooden urns are biodegradable and can be used for burials in the earth. Wood as a natural resource is extremely environmentally friendly and highlights the love of nature.
Each wooden urn is unique  – A selection of wooden urns
When buying a wooden urn at our shop, you can choose from four different variations:
Natural or oiled wooden urns
Lacquered urns from wood
Root wood urns
Tree trunk urns
Except for the lacquered wooden urns, every one of our wooden urns contains the natural grain and colouring. Because of that, they are original, personalised, and unique.
Except for the lacquered wooden urns, every one of our wooden urns contains the natural grain and colouring. Because of that, they are original, personalised, and unique.
Natural urns or oiled wooden urns – Beautiful and simple, for every grave
Oiled or natural wooden urns are simple and meaningful. If you like a reserved and natural design, a wooden urn is the right choice.
It is a material that is symbolic of the natural cycle. Everything that is gone becomes something new. Like nothing else, the wooden urn represents this ecological cycle, and thus life. Urn and ashes decompose in the soil over time, and the minerals and nutrients are passed to the next generation of trees and plants. New life arises.
This thought helps the processing of grief and pain. Wood combines nature's warmth with the last loving feeling of the deceased person. A wooden urn is incomparable and dignified for the final journey.
Lacquered wooden urns radiate quality and sophistication – An alternative to the untreated urn
Looking for something natural, yet distinct from wood? For both aspects, we recommend our lacquered urns. You decide if you prefer gloss or classic white and black. Mementi offers a range of cubic and lacquered cremation urns made from wood, with some related to specific themes, such as our sporting urns.
Root wood urns – a natural jewel among urns
Natural and special
When dying, we return to our roots – where we came from. A root wood urn perfectly represents this natural cycle. It is made from one piece of root wood.
The selected root wood is caringly milled to maintain the root wood's special characteristics. This is German craftsmanship in its purest form. Neither the artist nor Mementi can tell how the root wood urn might look like. Each one is entirely unique.
ROOT WOOD URNS IN SHOP
Tree trunk urns
Add a piece of pure nature to your loved one's funeral that is beautiful and peaceful
As unique as the root wood urns are our tree trunk urns. Mementi's tree trunk urns are made from one piece of a tree trunk. In the middle of the tree trunk, a cavity for the ashes is cut out. The bark and the natural look of the tree are preserved. Therefore, the tree trunk urn is the most natural urn made from wood we can offer you.
Just as the wood goes back into the earth, man also returns to his origins.
The completeness of the piece of tree trunk represents the closeness to nature, as well as the beauty of nature. The unique bark is not only a protection for the ashes, but also symbolises the individuality of the deceased. No matter what kind of wood you decide upon, all of our tree trunk urns are beautiful unique pieces.
TREE TRUNKS URNS IN SHOP
Types of wood for wooden urns  – More than just wood
We offer different kinds of wooden urns. The look can range from classic to modern. The type of wood differs depending on the kind of wooden urn.
The tree trunk urns are made from – among other things – alder, oak, poplar and pine. You can find wooden urns from oiled wood in beech, and our natural urns are made from spruce, beech, and other types of wood. You can find the complete assortment in our online shop. It's also worth noting that our online shop provides secure online ordering and all orders have include delivery and packing in the cost already.
We also offer wooden cremation urns in many different forms: disc-shaped, spherical, or diamond-shaped.
MANUFACTURING OF WOODEN URNS – SUITABLE FOR EVERY BURIAL AND EVERY CEMETERY
We only use natural wood for our tree trunk urns, so it is as close to nature as possible. We do not add glues, oils or lacquers. In this way, we protect mother nature, and we can offer wooden urns which are suitable for all kinds of burials and comply with the regulations of the cemetery.
Our tree trunk urns and root wood urns are made from one piece of wood. We work together with carpenters and other craftsmen, so we can guarantee the high quality of our urns.
The cycle of a wooden urn – From a tree to an urn to a tree
Mementi's wooden urns are in compliance with an almost perfect ecological cycle. The 'Black Forest' urn, for example, is made from indigenous beech wood and without any metals or artificial glues. There is no need for an ash capsule. The urn filled with the ashes is given back to nature, whereby it can be absorbed completely and residue-free by the next generation of trees.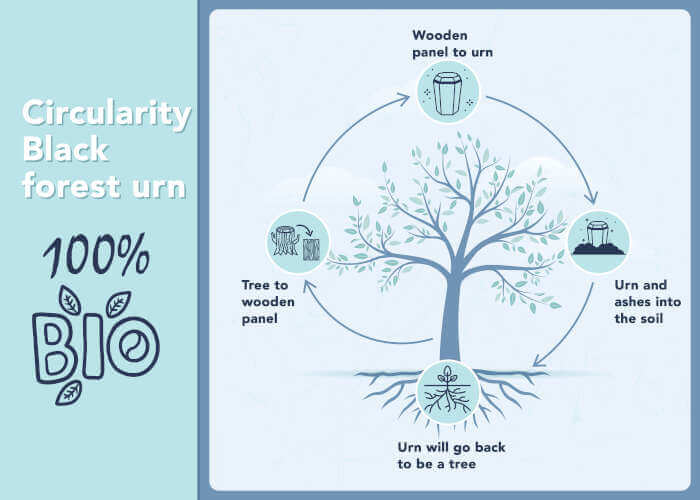 Haven't found what you want yet? What about a photo urn?
Photo and panorama urns can be designed and printed using your own imagery and labelled or personalised as your wish.
PHOTO URNS IN SHOP